The sun has come out, but weather forecasters still don't seem to be ready to say whether we're likely to have a hot summer or not. It's even harder to know whether there will be a drought. But follow our tips for summer lawn care, and your lawn should survive whatever the weather.
Keep mowing
Irrigate
Feed
Even if the weather is dry, do keep mowing your lawn all summer. All kinds of garden turf need regular maintence to keep them looking healthy. If it rains fairly regularly, it may need doing twice a week, or even more often, so be guided by the state of the lawn. If it looks like it needs mowing, then mow it.
If it's dry, then raise the blades of the mower a fraction. You can even leave the trimmings lying on the lawn to help retain moisture, although you'll need to rake them up in the autumn. But whatever you do, don't stop mowing. If you do, the coarser grasses in your turf grass will out-compete the less robust varieties, and you will end up with an unattractive lawn.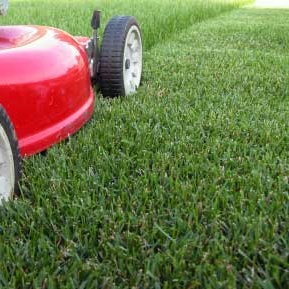 If there is a hosepipe ban, which seems fairly unlikely at this stage, there is no need to panic. Lawn turf is incredibly robust, and will probably recover fully and be absolutely fine once the rain starts again in the autumn. But if you are able to water, and you want to put a sprinkler on the lawn periodically, then go ahead.
The Royal Horticultural Society advises that it's best to water about once every week or ten days, and for no more than about 10 minutes per area. This allows the water to get down to the roots, but means that the grass won't become less drought-tolerant. If you want to completely revamp your garden, see our selection of turf for sale to give your garden a new lease of life if it looks tired.
Keep feeding your lawn turf throughout the summer, up until about late August or early September. Use a feed sold as a 'spring/summer feed for lawns', as this will have the right balance of nutrients to encourage both root and shoot growth. Come the autumn, you'll need to stop feeding, to avoid encouraging soft growth that will be susceptible to frosts, but for now, keep feeding to keep the lawn growing well.
Mid-summer is not the time to try to repair any dead patches in your lawn turf, whether with seed or turf. Any drought will just kill off the repairs. It's best to wait intil the autumn, and the arrival of rain, to carry out repairs. At that stage, you will be able to see how much of your lawn needs patching or relaying and you can buy turf, preferably a good quality one, from turf suppliers and follow our guide to patching your lawn and how to lay turf.