Turf & Lawn Blog
Welcome to Turf Growers Blog, you will find loads of useful information on lawn care, turfing tips and the latest news and updates on subject that may affect your turf like hose pipe bans and weather conditions.
2 minutes reading time
(456 words)
Lawns for Wildlife
The Royal Society for the Protection of Birds has launched a new initiative, called 'Giving Nature a Home', designed to encourage gardeners to think about wildlife in their gardens. The thinking behind the campaign is that as 'wild' habitats disappear in favour of housing, gardens become ever more important as a potential resource for wildlife. And since lawns often take up quite large parts of gardens, they're well worth thinking about if you want to make your garden wildlife-friendly. So what can you do to make your lawn part of a nature-friendly garden?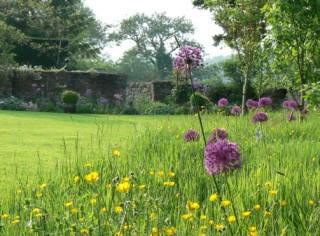 First, don't try to kill all the weeds, especially not using chemicals. A bit of clover or a few daisies in amongst your lawn turf will be great for bees and other nectar-loving insects! And where insects come, other wildlife will follow. If you have a large area of lawn, you might even consider leaving part of it unmown, or perhaps making a maze or decorative feature with longer areas. The longer grass will provide shelter for bugs and larger animals such as toads, especially if you also have damp areas around your garden. Leaving your lawn to grow long in this way will also give you fewer problems during periods of drought.
Or how about having a lawn with a difference? You could either have a wildflower meadow, or perhaps a sedum lawn. Both of these will be rich in nectar for pollinating insects, and are also more drought resistant than a traditional lawn. We're not going to pretend that either is a no-maintenance option, as both need some care, but they probably are slightly lower maintenance than traditional lawn turf.
A wildflower meadow can either be annual or perennial. Annual meadows are probably the easiest, as you can buy a packet of wildflower seeds, and seed it onto your existing lawn, as you would with grass seed. Prepare the ground first and then cover the seed with topsoil, and net it to prevent birds eating all the seeds. You may need to reseed annually, although some species will seed themselves.
A sedum lawn provides an interesting alternative to grass, although they have not really caught on in a big way. But perhaps if summers do become hotter and drier, as some experts are predicting, we will see more, as sedum is very drought-tolerant. Low-growing and gentle spreading, they are ideal ground cover plants, and may even be the lawns of the future. Who knows? But a patch of sedums, even if not a whole lawn, will provide nectar for insects and so make your lawn more wildlife-friendly.
We hope these ideas will help you think a bit about how to give nature a home in your garden, including using your lawn.
Stay Informed
When you subscribe to the blog, we will send you an e-mail when there are new updates on the site so you wouldn't miss them.