Turf & Lawn Blog
Welcome to Turf Growers Blog, you will find loads of useful information on lawn care, turfing tips and the latest news and updates on subject that may affect your turf like hose pipe bans and weather conditions.
2 minutes reading time
(455 words)
How to Create a Chamomile Lawn
A beautiful stretch of lawn turf is a joy to behold, but it's also quite a lot of work, what with the mowing, feeding, aerating, scarifying and so on. But are there low maintenance alternatives? We've run a few articles about wildflower meadows, but how about a chamomile lawn?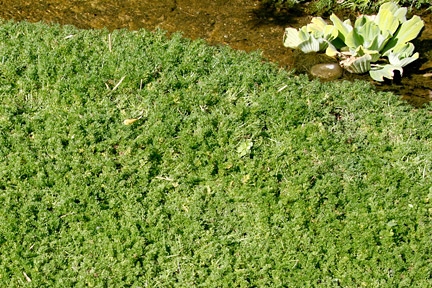 Is your garden suitable?
Chamomile needs sunshine, and it also needs light soils, and some moisture. Heavy clay soils are not suitable as they will be both too wet in winter and too dry in summer. A very dry, stony site is also unsuitable, as the chamomile will be patchy. A chamomile lawn is also unsuitable for areas that you want to walk on regularly. They will tolerate only very light foot passage, so it's no good planting one if you have children running about, or you want to use the garden heavily. But if you want to sit and admire the lawn from a patio, and don't want to have to mow, it could be the ideal option for you.
Preparing the site
Your best chance of establishing a chamomile lawn lies in thoroughly eradicating perennial weeds first. You may need up to three applications of systemic weedkiller, together with hoeing and hand weeding, before the site is ready.
Plants or seeds?
The most suitable cultivar for a chamomile lawn is C. nobile 'Treneague', which is a low-growing clone that does not flower. Because it's a named cultivar, it doesn't come true from seed, so you'll need to buy plants. Plants are generally available as small runners or as larger potted plants. These are more expensive, but you can divide them before planting, to make more plants. Depending on the size, you'll need to space the plants at about 10-20cm apart. Obviously, if you plant them closer together, the lawn will look better more quickly, but it will cost more.
Caring for your chamomile lawn
A newly planted chamomile lawn should not be walked on for at least 12 weeks, and ideally, you should keep off it as much as possible for the whole of its first year. In fact, if you can avoid walking on it at all, that would be ideal! A chamomile lawn will get patchy if it has all but the very lightest foot traffic, and once it gets patchy then you'll have problems with weeds. And because it's not grass, you won't be able to use a standard weedkiller, but will have to dig out weeds by hand, or use a spot weedkiller.
The ideal solution to enable to you avoid walking on your lawn is probably to put a paved or gravel path through it. This will avoid all foot traffic, and keep it looking lush and green throughout the year.
Stay Informed
When you subscribe to the blog, we will send you an e-mail when there are new updates on the site so you wouldn't miss them.