Family Lawn Turf - FROM £3.16 per m²
NW-Turf-FLT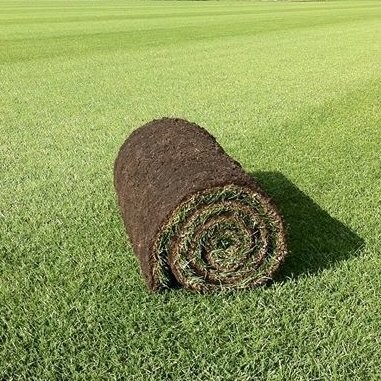 Turf
Price :
86.36
GBP
In stock
[tab name=" ⓘ Description"]
Family Lawn Turf
Family Lawn turf is a quality hard wearing, lush green turf suitable for all family gardens ( minimum 10 rolls delivered).
This turf will transform any garden and have all your neighbours green with envy and its easy to maintain, durable and ideal for any garden.
Features
Hard wearing
Suited to general garden and landscaping use where a hard wearing and durable turf is required.
Easy to lay 1m² rolls (61cm wide by 1.64m long and approximately 25mm or 1 inch thick)
* The FROM price is based on when ordering 250m² of turf = £3.16 + VAT per roll
✅ Free Turf Laying Guide With Every Turf Order
This turf has been developed with four different grass species to produce a low maintenance, hard wearing lawn suitable for use in domestic and commercial installations. Family Lawn Turf offers a durable and fast recovering turf suitable for use where there is heavy footfall, pets or children.
Easily laid and quick to gain healthy create a smooth, even surface, our family lawn turf has proven highly popular by those seeking a low maintenance lawn. Perfect for gardens with high foot traffic- whether it's relaxing on a summer evening, games with the family or excited pets playing: our family turf is a rugged and attractive choice for your lawn: resistant to regular use while always growing thick, luscious and healthy even without extensive care and attention.
By shopping with us you can be confident that you're getting freshly-dug turf delivered straight from our turf farms. This means you can be sure your turf will arrive at your garden while healthy and fresh, ready to be planted out on your lawn and immediate begin laying roots. This means you have the shortest possible time to wait before your new lawn is fully established and ready for mowing.
Important Information
Turf orders are delivered on an all day basis any time 08:30-18:30 ( later if the delivery agents are running behind).
Priority delivery before 13:00 is possible in most areas giving you a greater amount of time to complete your job on the day of receipt! Please call to ask for prices and availability - 01785 850 653.
Turf is a living plant and therefore a perishable product. Once orders are harvested they cannot be cancelled or refunded. Amendments are only possible until 15:00 the evening before harvest is due. All orders are cut the day before delivery.
Please be sure that an 18 ton truck can access your road, and that the delivery point is level and flat. Kerbside delivery is guaranteed to main and side roads only. The driver may be able to move the pallet closer to your property but at their discretion, pallets can only be left on hardstanding ground, not gravel nor grass. The driver may not be able to deliver on a slope and only to the entrance of private driveways.
All turf (however delivered) shall be at the customers risk from the point of receipt. After such time the company shall be under no liability for loss or damage or deterioration of the turf from whatever cause arising.
It is therefore very important that any issues with turf are reported on the day of delivery by email or Whatsapp message no later than Midnight on the day of receipt to validate a claim! Claims after this time may not be considered as this is time critical!
The customer fully understands that turf is a perishable product and should be laid on the day of receipt, and should be laid in accordance with the guide sent with your order confirmation email on properly prepared ground with no risk to drought and adequately watered until such time weather conditions allow this to be managed itself.
PLEASE ENSURE YOU HAVE ENOUGH RESOURCE TO LAY ALL THE TURF ON THE DAY OF RECEIPT, CONSIDER POOR/VERY WARM WEATHER CONDITIONS WHEN PLANNING YOUR JOB AS DELAYS CAN CAUSE DAMAGE TO TURF WE CANNOT BE HELD RESPONSIBLE FOR.
ORDERING TURF AND TOPSOIL?

Our turf is dispatched directly from the turf farm and topsoil from our yard / warehouse, therefore deliveries may arrive at different times of the day. We therefore recommend you order your topsoil separately and choose a delivery date at least one day before your turf (so that you can prepare your ground before the turf is delivered & incase of any unforeseen delays with the delivery network).
***PLEASE CLICK ON THE DELIVERY DETAILS TAB FOR MORE DETAILED INFORMATION***
[endtab]
[tab name="⚠ Your Turf Delivery"]
Delivery Information
We deliver turf Tuesday to Friday - you can choose your delivery date in the checkout.
We deliver via a Pallet Delivery Network using a tail lift delivery
We do not deliver onto grass, gravel or slopes.>
Turf orders are delivered on an all day basis any time 08:30-18:30 ( later if the delivery agents are running behind). (AM Delivery upgrades are available, please call for price & availability).

WE DO NOT OFFER A CRANE DELIVERY!
We can upgrade your delivery to a Saturday (Saturday deliveries incur a £60 surcharge) or a Priority Delivery (delivered before 1pm) - call for prices and availability on these services.
See our delivery details page for more information on our delivery service.
---
Turf Care - Very Important
Turf Must Be Laid Immediately Upon Receipt!
Any Issues with turf must be reported on the day of delivery.
Turf should not be left overnight on the pallet and should not be covered with tarpaulin etc or watered when in the roll as this can damage the rolls!
We can not accept responsibility for damaged caused by delayed laying beyond the day of receipt.
Once delivered you are responsible for the care of your turf.
Turf is a perishable product.
PLEASE ENSURE YOU HAVE ENOUGH RESOURCE TO LAY ALL THE TURF ON THE DAY OF RECEIPT, CONSIDER POOR WEATHER CONDITIONS AND VERY WARM WEATHER CONDITIONS WHEN PLANNING YOUR JOB AS DELAYS CAN CAUSE DAMAGE TO TURF WE CANNOT BE HELD RESPONSIBLE FOR.
If you are not able to lay all your turf on the day of delivery, we advise you to unstack the pallet of turf and where possible unroll the rolls. Keep your turf in a cool shaded place until you can complete your turf laying.
Early Spring and Autumn / Winter laying offers an extended period of time in which turf can be left in the roll without a serious loss of quality however the quicker you lay your turf the better and less chance of damage.

Delivery delays are possible, although 98% are delivered to service. If there is a delay and your goods arrive the following day, you will be notified as soon as we are aware of this and advised accordingly. Should there be any quality issues because of a delayed delivery the same conditions apply, provided we are notified no later than midnight on the delivery day we can claim for this, and issue new turf.
To register an issue email support@qualitygardensupplies.co.uk with date stamped photos highlighting the specific issues you have, or send a Whatsapp message the link to this is found on your order confirmation email following "report an problem with a product" option C.
We are unable to consider claims for poor turf that have not been reported within the period of the day of delivery, this is logged on our shippers portal with the proof of delivery and is what we use to verify claims.
[endtab]
[tab name="Turf Calculator"]
[endtab]
Features:Hard Wearing - Great Value
Use:General Purpose Lawn Turf
Product Lead Time:1
Perishable Product:yes